November 2022 - Agile Lab News
What's in store
November 2022
Thank you!
This is the last issue of the 2022 Newsletter and we'd like to start with a big THANK YOU to all our amazing followers. We're really glad to have you here and we hope you'll enjoy it.

Let's start with the latest news:
📌

How to model Data Products

: the new article by Paolo Platter

🎙

Data Mesh Italia:

a new meetup is on the way!

💥

Leader of Growth 2023: Agile Lab is still in the list!

🏄

Smart Working Plus:

new experiences for our team in Tenerife

📣

Join us: take a look at our open positions

📌 How to model Data Products
When it comes to modelling Data Products people go into panic. There are no clear rules, only some conceptual and not actionable indications.
Paolo Platter, CTO & Co-Founder @Agile Lab, goes through some rules of thumb to follow when modelling data products.
🎤 Data Mesh Italia: the decentralisation for the CPG world
Another Meetup for Italian Data Mesh enthusiasts: Roberto Coluccio, Data Architect @Agile Lab, hosted Lorenzo De Tomasi – Data & AI Solutions Architect @ Barilla, who shared the main challenges and strategies adopted in the Consumer Packaged Goods (CPG) world.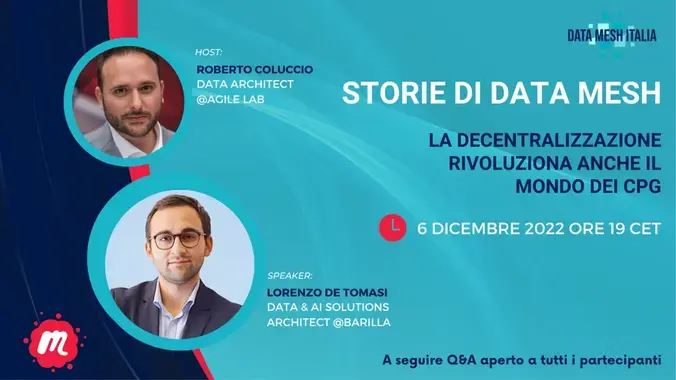 Il Sole 24 Ore and Statista have awarded Agile Lab within the Growth Leader 2023 ranking, the list of the 500 fastest-growing Italian companies.

It's a great honour to be among the top-growing Italian companies. Three years in a row is an amazing testament to our commitment to becoming a European organization and a leader in the market.

Agile Lab Smart Working Plus 2022: after Fuerteventura, this year the team replicated the experience in Tenerife!🏝

Different groups enjoyed 2 or 3 weeks on the beautiful island, exploring it, working and spending time together.
| | |
| --- | --- |
| | |
| | |
We are always looking for the best talents in the market!
Our team is continuously growing, we are always looking for new members to join us and become part of our team.

If you are a Big Data Engineer IV – Senior or a Software Engineer IV (Full Stack) or would like to join a top-tier data engineering firm with a remote-first culture and an international mindset, take look at our Open Positions!