Subsurface 2023 - The Data Lakehouse Conference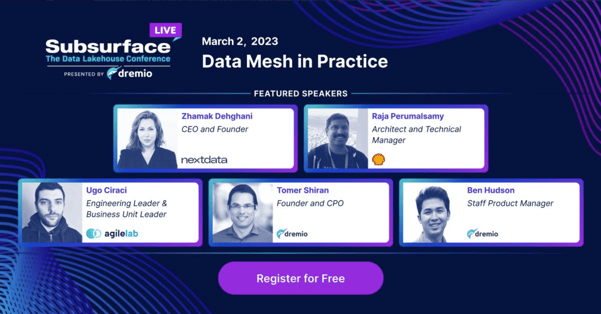 We're excited to participate at this year's edition of Subsurface - The Data Lakehouse Conference, which will take place between March 1-2 online, but also in San Francisco, London and New York.
Ugo Ciracì, our Engineering Leader and Business Unit Leader of Utility and Telco will be part of a panel of data mesh experts on the Data Mesh in Practice track which will discuss the practical considerations of data mesh.
Ugo will be joined by Zhamak Dehghani, Raja Perumalsamy, Tomer Shiran, and Ben Hudson to discuss tips to address important aspects of the practice as well as real-world lessons when implementing data mesh. The panel will also address data mesh challenges faced during implementation, balancing data mesh with existing architectures, success metrics, and much more.
Find out more about Subsurface 2023 here!