EM360 Award: The Most Popular White Paper of Q1 2023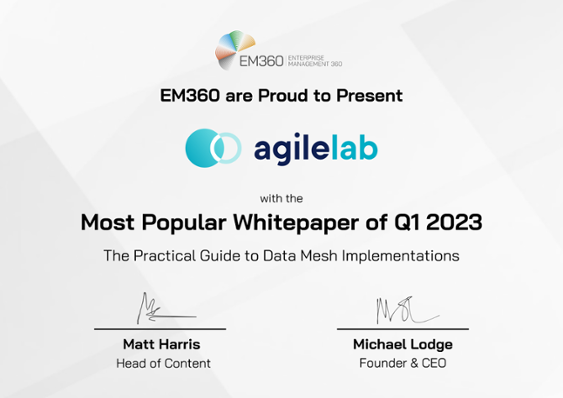 Our white paper titled: The Practical Guide to Successful Data Mesh Implementations has been awarded as the most popular white paper of Q1 2023.
Nothing means confirmation as much as an award and we're extremely proud to have produced content that resonated with our audience. We're already building on the back of its success. This feedback encourages us and tells us that we're heading in the right direction. It also indicates the need and importance of similar content that addresses the questions and needs of data engineering leaders everywhere.
We'd like to thank EM360 for the great partnership and effort they put into this partnership. We are already looking forward to our next joint efforts.
If you haven't had the chance to check the white paper out yet, we highly recommend it. You'll have a step-by-step guide to implementing the paradigm shifting architecture of Data Mesh.