Champions of Growth - November 2023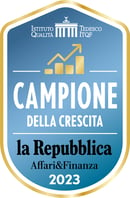 We are proud to announce that Agile Lab has been named "Campioni della Crescita" (Champions of Growth) by the German Institute of Quality and Finance (ITQF) and La Repubblica Affari & Finanza, being one of the first 400 Italian companies with the fastest annual growth in the three-year period 2018-2021.
It is the fifth edition of a survey that rewards excellence in the Italian economy and that, after a careful selection, has listed the 800 companies driving the Italian economy and development.
As stated by the ITQF, being one of the "Growth Champions 2023" is visible and official proof of business success. The initial long list from which started the research was made by 50.000 companies.
Read the full article (in Italian) to know more.